Examining Landfill Caps with NDVI
In coordination with the Atlantic County Utilities Authority (ACUA), the Geomatix team completed a small demonstration project at a landfill in Egg Harbor Township, NJ. For the Landfill, it's important to monitor the health of the live cap and ensure its and robust to help prevent erosion, weathering and other natural phenomenon that might threaten the integrity of the cover.
We deployed a drone equipped with a Multispectral Sensor (MSS) to map vegetative cover. We were able to successfully quantify the extent of vegetative cover and its health across an approximately 14-acre test area.
For flight operations, we used a DJI Inspire 2 equipped with a MicaSense RedEdge Multispectral Sensor and captured nearly 7,500 images.
Back in the office, we processed the photos into a collection of georeferenced raster data using standard Structure from Motion (SfM) photogrammetric tools and techniques. The main goal of this project was to provide a normalized difference vegetation index map—or NDVI. An NDVI map is a simple graphical indicator that can be used to assesses whether what we're looking at contains live, green vegetation. The NDVI dataset we produced helped illustrate areas of the cap that were either less densely vegetated or where existing vegetation was suffering. Below is the full, pseudo-colored NDVI Map.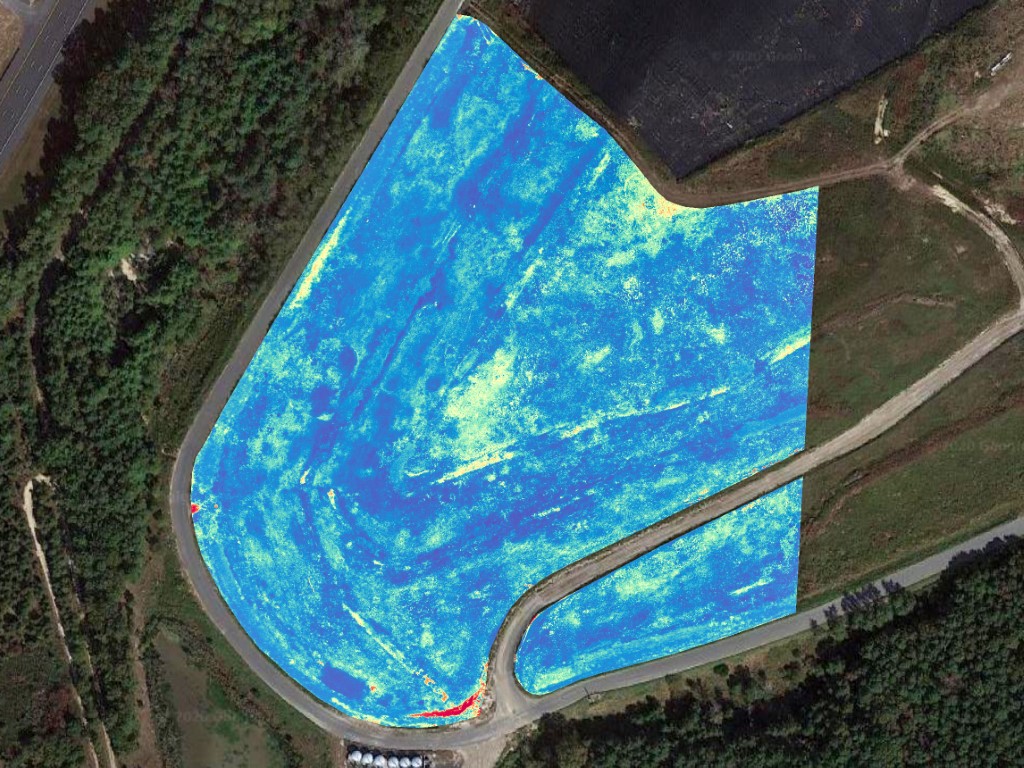 Normalized Differential Vegetative Index map
As a rule of thumb, a NDVI score of 0.7 or less can be considered "unhealthy" vegetation. This number varies significantly with types of vegetation and seasonal variance, but serves as a good starting place. We did some further processing to the NDVI map to show only areas with a NDVI value of less than 0.7. We were then able to calculate acreage of the affected areas and point landfill personnel right to them. In the image below, you can see the problem areas we highlighted.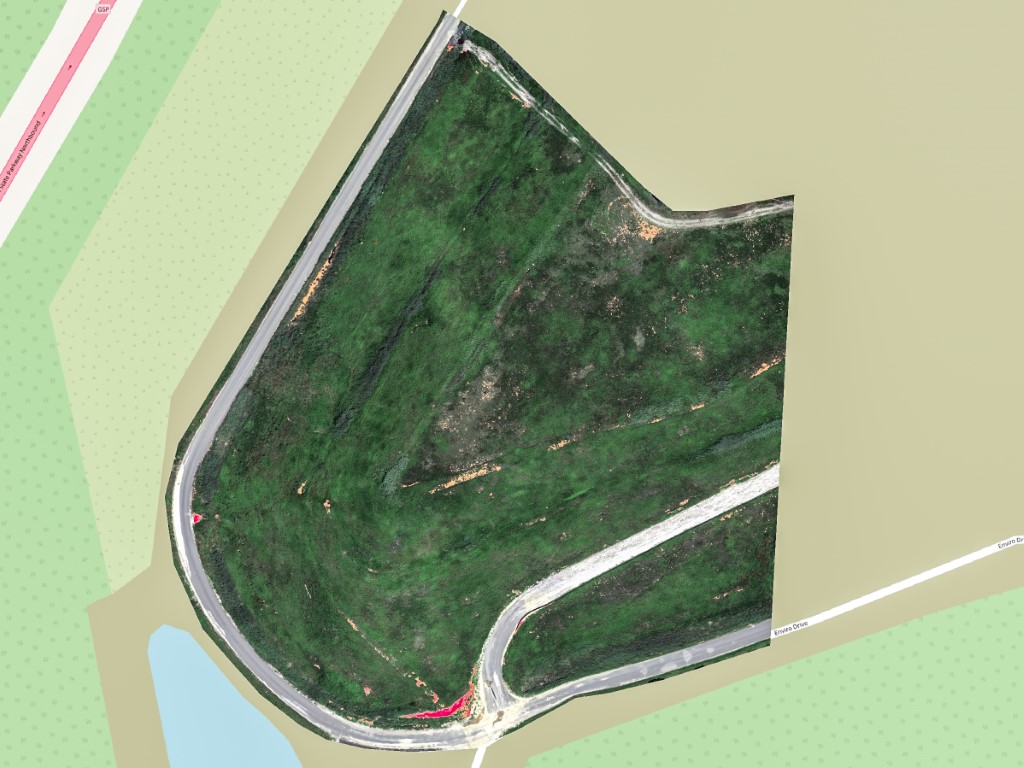 Areas with a low NDVI score are identified in the map above.
At the end of the day, we were able to give the landfill company a quick view of their site, and a quantitative analysis of their cap integrity. This approach offers a novel, cost-effective way to perform large scale evaluations of landfill vegetative cover remotely and quickly. Quarterly flights can help track problems and measure the success of remediation techniques in a truly defensible manner.
This is just a small look at what we're doing to advance the field of remote sensing. To find out how these new tools can be used on your site reach out for a free presentation or consultation at the link below.
Contact Us!